I stumbled upon this recently: http://doublespeed.virginmedia.com: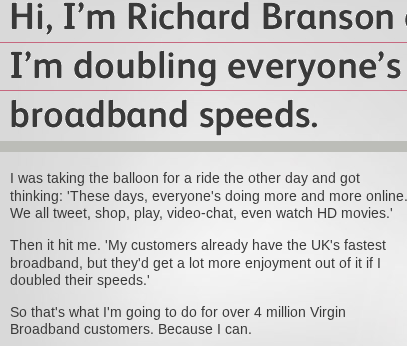 All I have to say about it is:
WHAT A FUCKING PILE OF MARKETING DONKEY DUNG!
Hey Rich, since you're so willing and able, how about making my lousy 10 Mbps Virginmedia pipe stay at 10 Mbps and not go down at 2 Mbps whenever I download something for more than 20 minutes?
And since you're at it PLEASE DO SOMETHING ABOUT THE LATENCY AND THE PACKET LOSS 'CAUSE EVERYTHING'S FUCKING BUFFERING!
Kthxbye